Aqueous Cleaning Systems
Our aqueous cleaning systems are favored for their environmental, health, and financial advantage of using water as its primary agent as opposed to solvents. Our units are capable of many different aqueous cleaning techniques like direct spray, total immersion, ultrasonic or a combination depending on the exact clean you require. With the addition of heat and agitation, Sonicor can guarantee to restore even your most delicate workpiece. Explore our line of aqueous cleaning systems for your direct spray, total immersion or ultrasonic cleaning needs. Discover the benefits of using water as opposed to solvents!
Aqueous Tank Configuration Options
Sonicor "CPS" series consoles offer a complete parts cleaning process line housed in a rugged, all stainless cabinet/countertop assembly. Standard consoles are available in either three stage CPS3, (ultrasonic clean/rinse/dry), or four stage CPS4,(ultrasonic clean/rinse/rinse/dry) models.
Sonicor Parts Baskets
Our "BP" series baskets are designed for a manually operated system. The "BA" series baskets are designed for an automation/process control system. When ordering parts baskets for an automated system, a three stage system will require five (5) parts baskets, and a four stage system will require six (6) parts baskets.
Standard Features:
Sonicor "BandScanner" sweep frequency ultrasonics
Spray-over immersion on rinse tanks
Two stage counter flowing rinse (CPS4 only)
Auto-reset cycle timers on ultrasonics & dryer
Stainless drip diverters between process tanks
Single point electrical supply connection
Low level protection for all heaters & ultrasonics
Stainless, front access fill & drain valves
All Stainless cabinet, countertop, tanks & supply plumbing
Adjustable overflow on rinse tanks
Filter system on stage 1 ultrasonic cleaning tank
Digital temperature controls on all process tanks
Stainless lift-off cover on dryer
Single point drain plumbing connection
CPVC drain plumbing
Sonicor "Bandscanner" series 40KHZ ultrasonics
Available Options & Accessories:
Add ultrasonics to one (1) rinse tank
Auto-fill on stage 1 ultrasonic clean
Automatic tank drains (3)
Oil separator system on cleaning tank
Automatic slide cover on dryer stage*
Stainless load or unload platforms*
Basket sensor on load or unload platform*
Peripheral control wiring pkg.*
Integrated RCT-50 automation package*
*Required for system automation
10×12 Aqueous Console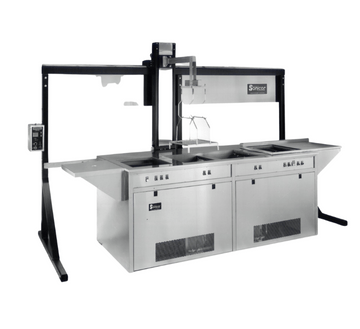 Model CPS3-1012
Tank Size (LxW) 10″x12″
Stages 3

Ultrasonic Clean
Rinse
Dry
Model CPS4-1012
Tank Size (LxW) 10″x12″
Stages 4
12×16 Aqueous Console
Model CPS3-1216
Tank Size (LxW) 12″x16″
Stages 3
Model CPS4-1216
Tank Size (LxW) 12″x16″
Stages 4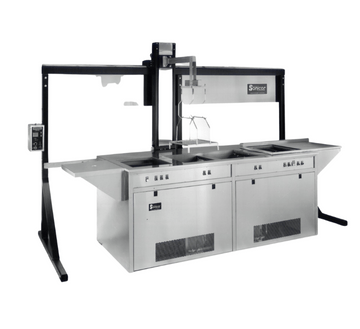 16×20 Aqueous Console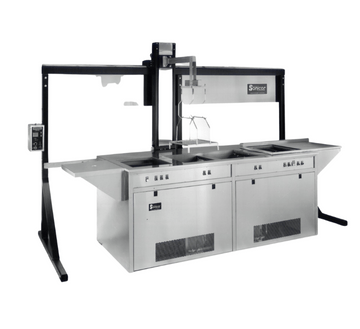 Model CPS3-1620
Tank Size (LxW) 16″x20″
Stages 3

Ultrasonic Clean
Rinse
Dry
Model CPS4-1620
Tank Size (LxW) 16″x20″
Stages 4
20×24 Aqueous Console
Model CPS3-2024
Tank Size (LxW) 20″x24″
Stages 3
Model CPS4-2024
Tank Size (LxW) 20″x24″
Stages 4